POWERED BY FORD! is your one stop for Ford Racing and high performance parts for your Ford car or truck.
Whether it's the ever popular Mustang in all it's forms: GT, Cobra, Shelby, or one of the other potent Ford Performance cars of the Present or the Past.
Speaking of the past, we at POWERED BY FORD! know these great vehicles and haven't forgotten the powerful performance cars carrying the names: Torino, GT, Cobra, Mercury Cyclone, Fairlane 500, Galaxy 500, Cougar and Thunderbird just to name a few.
Trucks: F100, F150, F250, F350, Mud Racing, Sand Drag, Street or Monster Trucks, bin-there-dun-that!
Whatever your requirements, whether it's engine components, transmission and drive line or suspension, POWERED BY FORD! provides top quality performance parts at competitive prices. That's why PBF is a worldwide Top 10 Ford Racing Dealer for 13 straight years.

PBF has a knowledgeable staff with the proven ability to help you select the right item for you car - every time!

Champions Demand Consistent Performance To Keep Them Successful.



At POWERED BY FORD! we answer that demand with quality service every time! While other high-performance "specialists" sell themselves with claims of cheap prices, in-house machine shops, tech experts and so on, at PBF we make more than promises, we deliver. No Bull.

PBF maintains a complete performance machine shop on the premises, not down the street or around the corner like some "in-house" claims. We have the proper equipment and trained personnel to complete your machining needs top to bottom - done right the first time.

PBF has the state-of-the-art diagnostic equipment you need. With our Superflow 600 Flowbench and Stuska/Superflow engine dyno, along with our many years of research and development, we do know what works and why.

So if you're tired of outrageous claims, false promises, and costly disappointments, whether you need one component, cylinder head, intake porting, or a complete racing engine, it's time to Cut The Bull and make the winning choice!

Demand The Best For Your Race Program.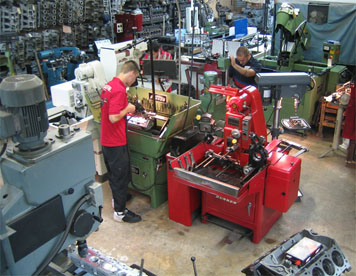 Powered by Ford, Ford Racing Parts, Mustang Cylinder Heads, Ford Valve Covers, Nitrous Kits, 4.6 Ford Motor, 5.0 Coyote, 5.0 Mustang
NOTICE
The POWERED BY FORD online store is always going under product population. If you don't see the product you are looking for. Please don't hesitate to email or contact us by Phone at this number: 407-843-3673

Store Hours
9AM - 5:30PM EST Monday-Friday
Open Sometimes on Saturday
Closed on Sunday